Staff and students (KAMK), other University of Applied Sciences: Use HAKA login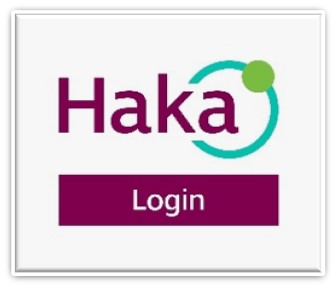 HAKA-kirjautuminen
Muista, että sinun tulee rekisteröityä vain kerran Moodleen. Älä luo useita tilejä käyttämällä eri kirjautumistapoja!
KAMK:n henkilökunta ja opiskelijat, muut korkeakouluopiskelijat:
Kirjautuminen Reppuun tehdään Haka -käyttäjätunnuksilla. 
HAKA-kirjautuminen onnistuu painamalla HAKA-painiketta kirjautumissivulta. Kirjautumiseen käytetään oman kotiorganisaation tunnuksia.
Opiskelijat: jos et jostain syystä pääse kirjautumaan Reppuun tutustu ohjeisiin.
Muut
Mikäli sinulla ei ole minkään korkeakoulun tunnusta, voit luoda oman tunnuksesi Moodleen painamalla Luo uusi tunnus -painiketta (Löytyy klikkaamalla Kirjaudu erillisellä Moodle-tunnuksella -painiketta). Järjestelmänvalvoja hyväksyy pyyntösi, kun kaikki tiedot ovat oikein. Muista lisätä tieto mihin opintojaksolle olet menossa. Hyväksyntä tulee antamaasi email -osoitteeseen. HUOM! tunnuksen voi tehdä vain jos sinulla ei ole minkään korkeakoulun tunnusta.
-----------------------------------------------------------------------------------------------------
Please note that you should only register once to Moodle

.
Don't create
multiple accounts using different sign-in methods!
Staff and students (KAMK), other University of Applied Sciences:

Select HAKA button, select your organization and log in to Reppu with your home organization's account. 
Students: if you are unable to log in to Reppu, please check FAQ.
Others
If you don't have any University of Applied Aciences account, you can create your own Moodle account to Reppu. Press Create a new account button, it can be found when you select Log in with seperate Moodle ID. Site administrator will accept your request if registration information is correct. Please remember add information which course your are about access. You will receive confirmation email to your email which you added in registration form. NB! Don't try to make seperate Moodle ID if you have university account.