Reppu ja DevMoodle on päivitetty Moodle 4 versioon 26.-28.6.2023. 
Aiheeseen liittyen tullaan järjestämään digipalveluiden toimesta perehdytystä henkilöstölle. Tästä tiedotetaan myöhemmin lisää.
Video Moodle 4 version muutoksista 

Näkymä kirjautumisen jälkeen
Etusivut ennen kirjautumista pyritään pitämään mahdollisimman saman näköisinä. Kirjautumisen jälkeen käyttäjälle avautuu Työpöytä -näkymä. Ylälaidasta löytyy Omat kurssit –osio, josta voi suodattaa jatkossa näkyviin käynnissä olevat, tulevat tai menneet.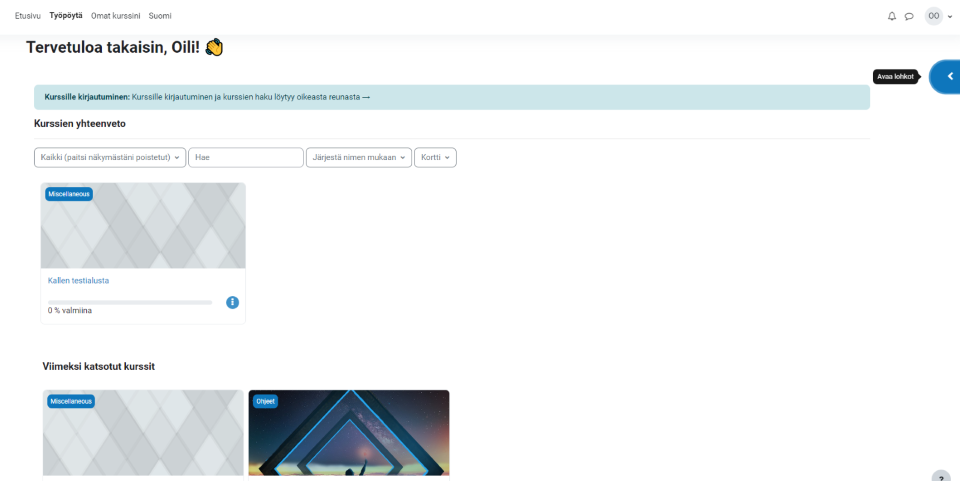 Työpöytä kirjautumisen jälkeen Repussa.
Muutos kurssialueen navigaatiossa
Moodle 4 versiossa suurin muutos liittyy navigointiin ja ulkoasuun. Vasemmassa reunassa ollut navigointipalkki siirtyy ylälaitaan (kurssin asetukset, osallistujat, arvioinnit, raportit ja lisätoiminnot). Muokkaustila-painike siirtyy oikeaan yläkulmaan. Kurssialueen vasemmassa reunassa on sisällysluettelo.

Ylälaidan navigaatiopalkki.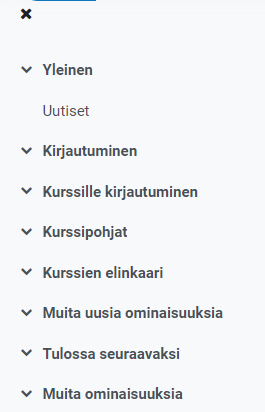 Kurssi: opintojakso sisältö 

Asetukset: kurssin setukset mm. nimi, aloituspäivämäärä jne. * 

Osallistujat: osallistujalista 
Arvioinnit: arvioinnit 

Raportit: kurssikohtaiset raportit * 

Lisää: muut toiminnot * 

Muokkaustila: kurssin muokkaus päälle/pois * 
Aineistojen ja aktiviteettien kuvakkeet muuttuvat
Kurssin aineistojen ja aktiviteettien kuvakkeiden ulkoasu muuttuu: aktiviteetit ja aineistot tunnistaa nykyään suorakulmion muotoisesta alueesta ja neliön muotoisista kuvakkeista. Edistymisen seurannan ollessa käytössä, edistymisen ehdot näkyvät aineiston tai aktiviteetin kohdalla, oikeassa reunassa.



Moodlen käyttöehtojen hyväksyntä päivityksen jälkeen
Käyttäjän tulee hyväksyä uudet käyttöehdot kirjautuessaan päivityksen jälkeen ensimmäistä kertaa. Ehtojen hyväksyminen on edellytys Repun käytön jatkamiselle.
Pidätämme oikeudet mahdollisiin muutoksiin tässä tiedotteessa mainittuihin asioihin. 
-----------------------------------------------------------------------------------------------
Reppu and DevMoodle will be upgraded to Moodle 4 version between26th to 28th of June 2023. This will cause a downtime in both Moodles during those days. The current Moodle version will reach its end of life in the fall, so the upgrade is necessary for security reasons. Additionally, the new version brings improvements, which will be described in more detail below. In connection to this, digital services will arrange an orientation. More information about this will be provided later. 
The view after logging in
The front pages before logging in are aimed to be kept as similar as possible. After logging in, the user is directed to the Desktop view. At the top, there is a section called "My courses" where the user can filter ongoing, upcoming or past courses to be displayed in the future.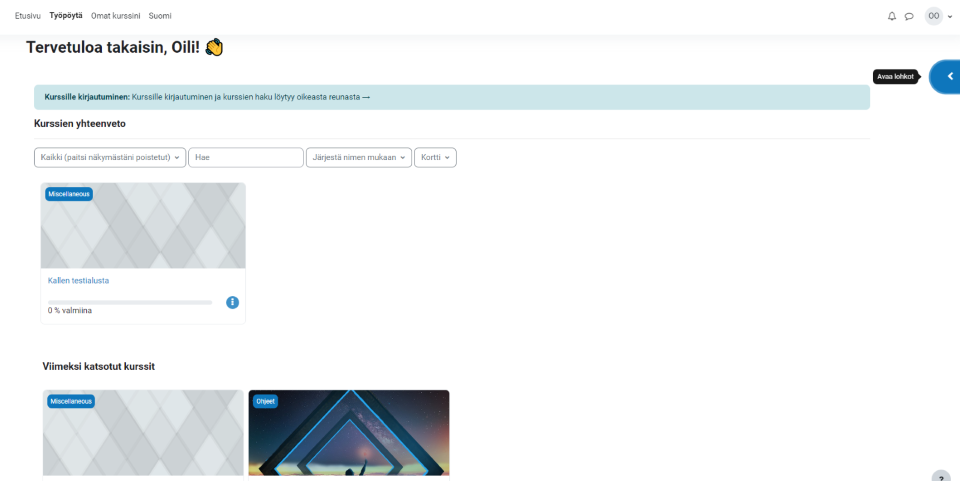 Change in course area navigation
In Moodle version 4 the biggest change is related to navigation and appearance. The navigation bar that used to be on the left side is now moved to the top (course settings, participants, grades, reports, and additional functions). The edit mode button is moved to the top right corner. The table of contents is now located on the left side of the course area. 

Top menu navigation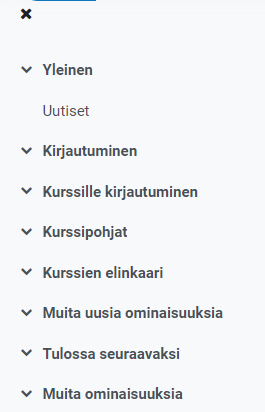 More: other functions *
Edit mode: turn course editing on/off * 
The icons for materials and activities are changing. 


The appearance of the icons for course materials and activities is changing: activities and materials can now be identified by a rectangular area and square icons. When progress tracking is enabled, the progress conditions will be displayed for the material or activity on the right-hand side.

Acceptance of Moodle terms of use after update.
Upon updating, the user must accept the new terms and conditions the first time they log in. Accepting the terms is a prerequisite for continuing to use Reppu.
We reserve the right to make any changes to the matters mentioned in this notice.
Last modified: Monday, 3 July 2023, 11:29 AM